Posted on 10. Mar, 2011 by Beg Scream & Shout! in News, Updates
Jeff Galindo – Trombone, Beg, Scream & Shout!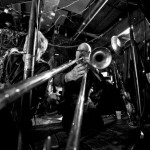 Born in San Francisco, California, Jeff Galindo attended Berklee College of Music in Boston, Massachusetts on scholarship after high school. He also studied with Hal Crook, Jerry Bergonzi, and George Garzone with grants by the National Endowment of the Arts and began free-lancing in the Boston area. His experience includes tours of Europe with Phil Woods and Japan with Makoto Ozone, and tours with the Artie Shaw Orchestra. Jeff has performed with such notables as Chick Corea, Clark Terry, Joe Lovano, Buddy DeFranco, Slide Hampton, and Johnny Griffin. He has also performed with Gunther Schuller, Ray Charles, Aretha Franklin, Jerry Bergonzi, Bobby Shew, The Boston Pops Orchestra, and Sam Butera among many others. In Boston, Jeff performs regularly with the Greg Hopkins Big Band and Nonet, The Galindo/Phaneuf Sextet (with which he has released a new cd "Locking Horns" in 1998 and won Boston Magazines "Best of Boston" for a jazz group in 1999), plus his double quartet with George Garzone. He is currently one of the top free-lancing trombonists in the Boston area.
Jeff is an Assistant Professor at Berklee College of Music, teaching both trombone and jazz improvisation. He also has an extensive private teaching schedule. Jeff is in high demand as a guest artist and clinician at high schools and universities in Massachusetts, the United States, Canada, and Europe.
Find out more about Jeff at www.jeffgalindo.com